Here are a few of my favourite cookbooks for the ketogenic diet. These are great if you want to try out some recipes and get a collection of favourites that you can plan into your weekly shop.
I don't follow recipe books all the time – far from it. However, when I was just starting out these books really helped me to broaden my knowledge and get to grip with all the delicious possibilities on a keto diet. A good cookbook can be invaluable when you're starting out.
Don't be afraid to play around with ingredients (keeping them keto of course!) and try out some new ideas based on these recipes. Everything can be tailored to your own liking. I'm a big fan of spicy foods so you'll often catch me throwing in some extra chilli no matter what the recipe!
By the way, some of these links are affiliate links which means that I will get a small compensation (at no cost to yourself) if you should choose to purchase a book using one of these links.
---
My Fav Right Now!
This selection of ebooks from my friends over at Tasteaholics makes everyday keto super simple.
Each recipe has only 5 ingredients, less than 5 carbs and takes 5 steps to complete!
Click the image below to check these beauties out. 🙂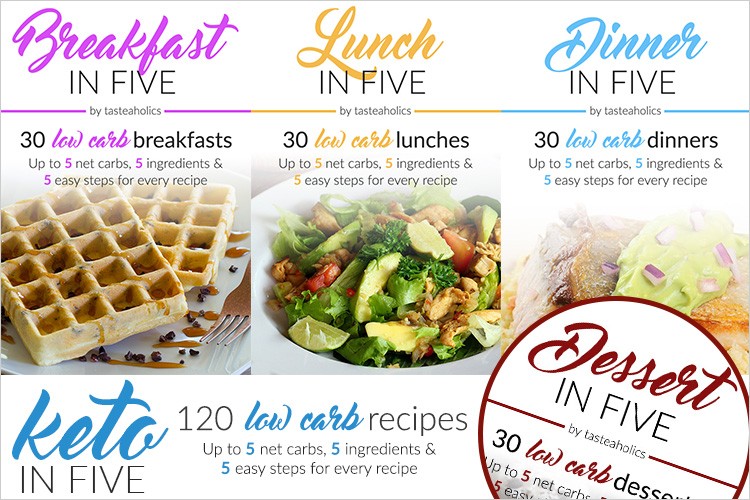 ---
More Keto Recipe Books I Love